2020 Beekeeper of the Year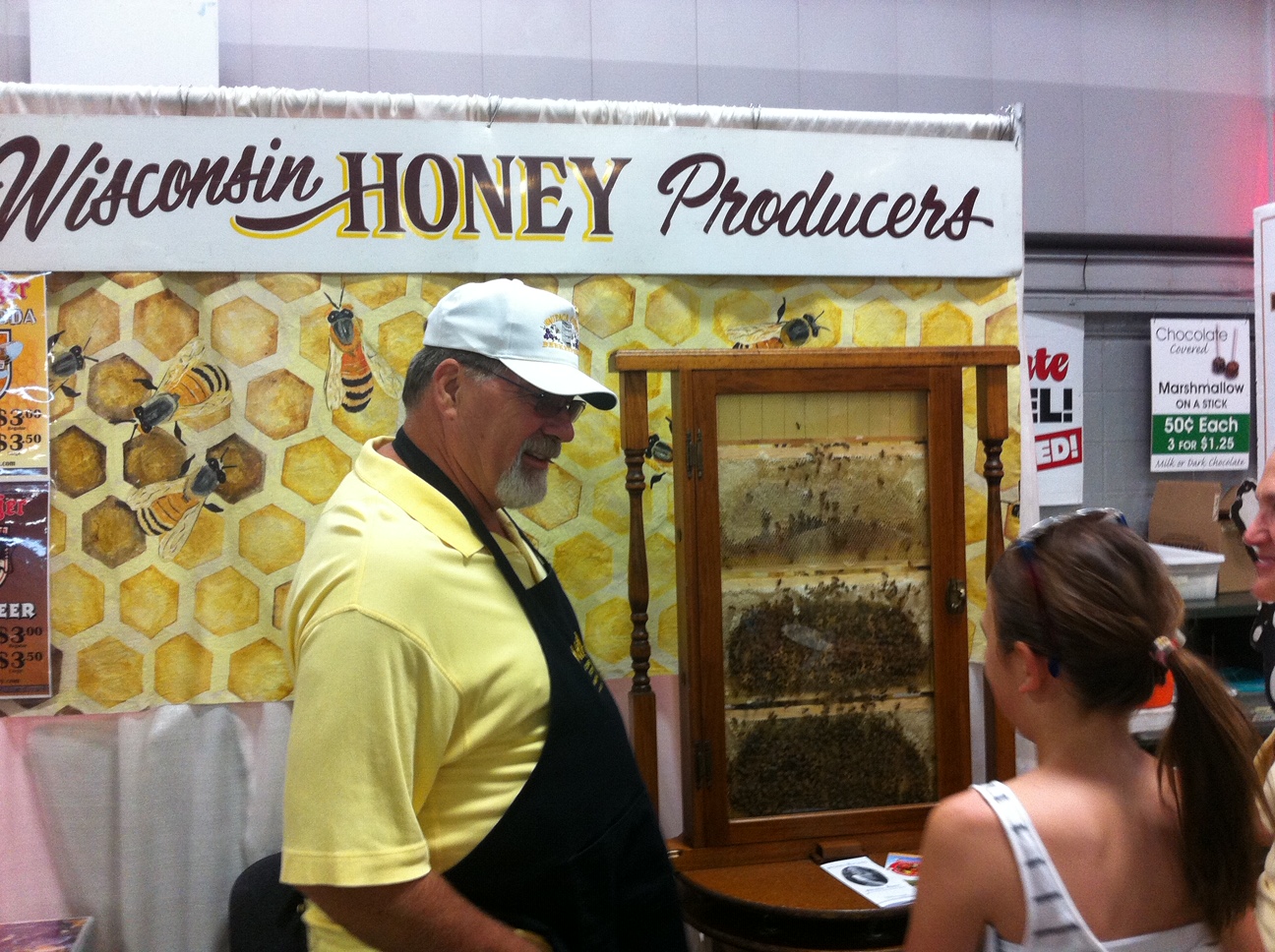 After retiring as vice president of Manufacturing for the Waupaca Foundry, Keith Penney took up beekeeping.  He would agree that it has changed his life for the better as he discovered a love for bees and mentoring. Penney's work in the WHPA has been as a contributor behind the scenes, organizing District meetings, coordinating events such as Honey Sunday, and growing beekeepers from the ground up through mentorship.
Penney has been an active member in the Waupaca County Beekeepers for over a decade serving as vice president, and he has been the "face" of beekeeping in Waupaca County. When many folks in the region meet a beekeeper, they ask, "Do you know Keith Penney?"  He goes way beyond what is expected to mentor and support new beekeepers.  He travels many miles every year answering their questions and he never wants to see a beekeeper or bee colony fail. Keith is a modest beekeeper.  He never assumes he is right and is always trying to learn from others.  In spite of this modesty, he is firm with new beekeepers who fail to learn the basics, who don't do mite counts and don't treat properly.  This is a reflection of him being a true beekeeper.  He cares about the bees.
During his 15+ years of beekeeping, Penney has been an annual fixture at the WHPA State Fair honey booth.  After working at the State Fair, he rides home silently – in the back seat – because he has lost his voice from talking bees.  Penney is a member of the WHPA who remains largely out of the public eye, attending conventions quietly, listening, and learning. He loves talking bees, educating others about the honey and beekeeping industry and promoting the WHPA at a grass roots level.  Congratulations Keith!
2020 Pioneer Award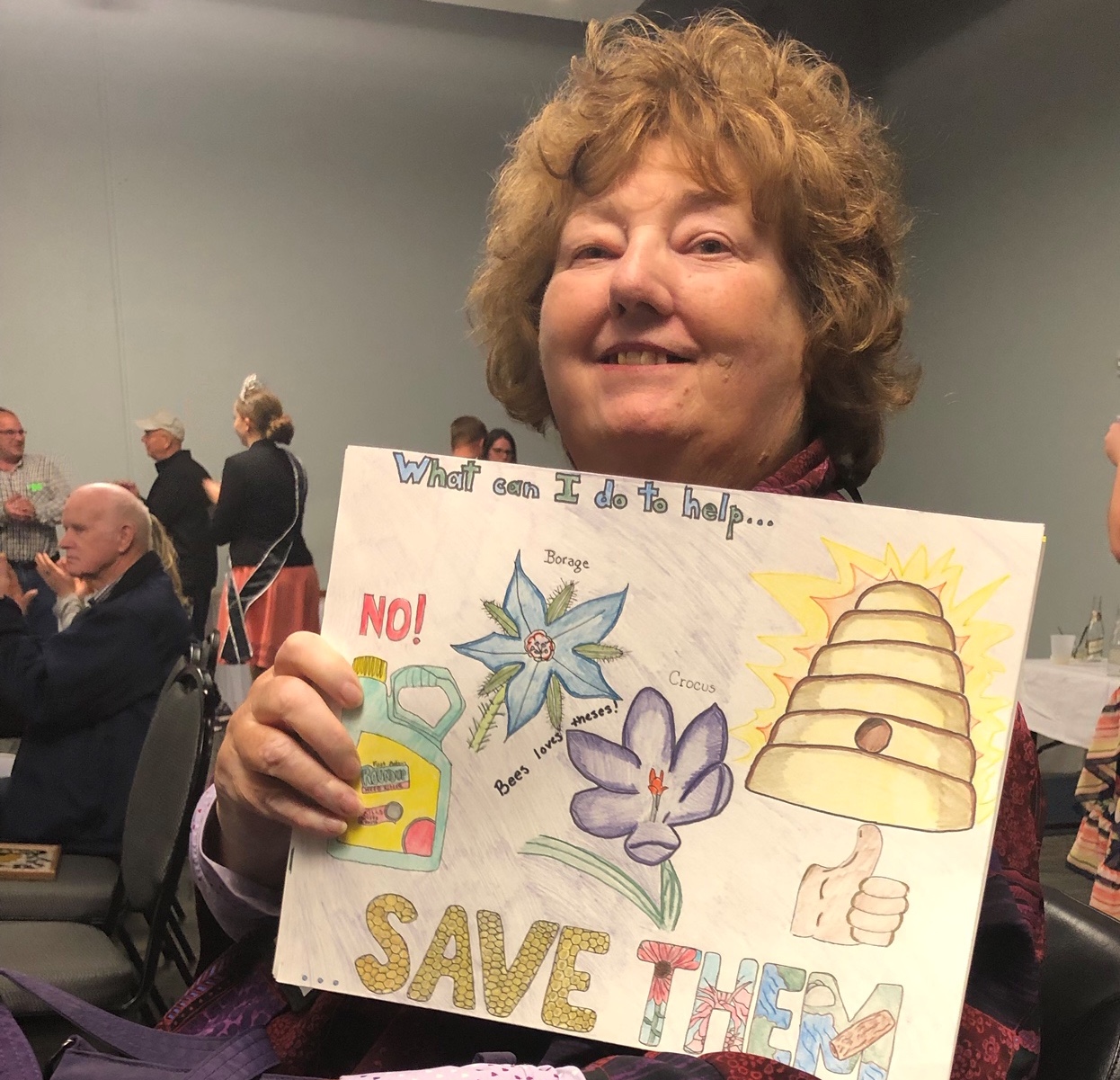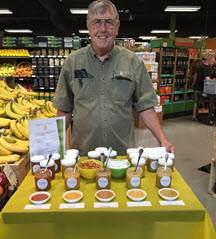 Bill and Susan have hearts of gold – honey gold! The Palmers have been members of WHPA since 1993. According to the Palmers, "When we moved from the city to a rural area, one of the first things we did was plant fruit trees.  We patiently waited 3 years for fruit, but there was no fruit.  Every spring there were blossoms on each of the trees, always the promise of fruit. One day we were reading an article in the newspaper about pollination and the lack of bees in our area to fill the need.  That was when we first embarked on the wonderful world of beekeeping starting with one hive.  The next year the fruit trees blossomed and through the wonders of pollination we had hundreds of peaches in late summer.  The bees did their job."
The Palmers went on to keep over 120 hives and began their journey as beekeepers. Bill and Susan have served in many areas of the Association.  Susan served as Treasurer for the WHPA and Bill was Southern District Chair for a number of years.  They volunteer at the WI State Fair honey booth and provide honey as bidders.  They give incredible support for the Honey Queen program, both on the state and national level, participating in auctions and providing honey products for the Queens to use in their travels and promotions.  Since joining WHPA, they have not missed conventions, summer meetings, District meetings in many districts, or other events (except for health issues).  They have stepped up often to help with any tasks needed. Bill has demonstrated his "how-to-make-it-yourself" skills with beekeeping equipment and has been a regular contributor to articles in the Badger Bee. Bill and Susan are often sought out for media interviews, articulate and confident promoters of honey and beekeeping to the general public.  They have worked tirelessly to ensure that they offer the finest products to best represent beekeeping and the honey industry while introducing new customers to the joy of honey. In addition to their WHPA membership, they are active members of the American Beekeeping Federation and have served as delegates from Wisconsin to the ABF conventions.  The couple are not shy about encouraging fellow beekeepers to widen their network as they promote membership to the WHPA and ABF as well as local clubs. They do not pass opportunities to meet other beekeepers from nearby neighbors to across the country, always learning and gaining knowledge to pass on to the next new friend. They are true WHPA pioneers! Congratulations Bill and Susan!
2019 Youth Award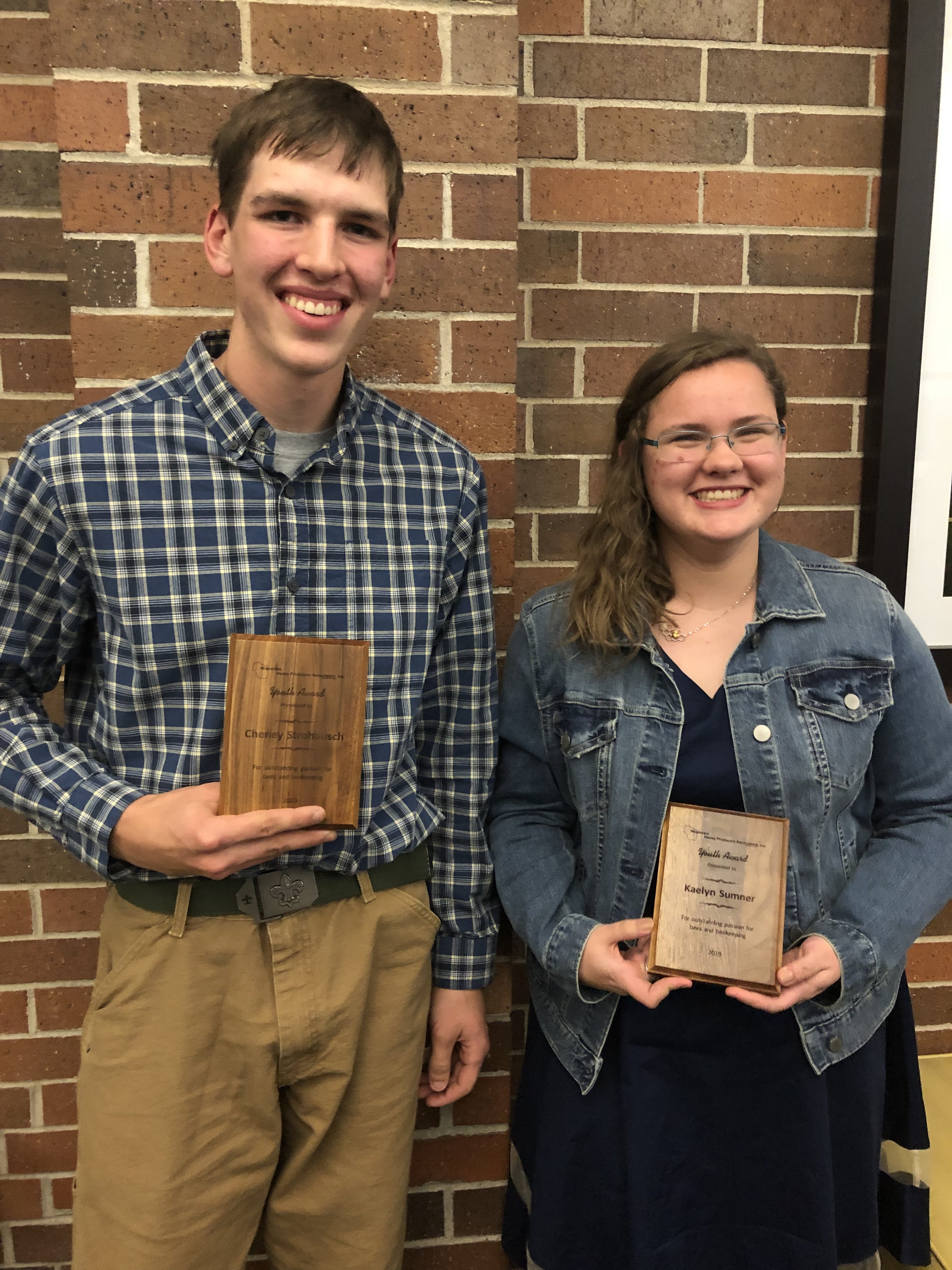 Cheney Strohbusch, of Watertown, WI is a 19 year-old beekeeper who just finished his sixth season in beekeeping. Strohbusch was recognized for his outstanding dedication since he first became interested in beekeeping and has continued to grow his operation and gain experience working with other beekeepers.
After learning that it was too late in the season to get packages of bees his first year, he started working with bees on a friend's hobby farm to get experience in beekeeping. He eventually received his first hive as a part of his payment for the work he was doing. Since that time, even despite early troubles of overwintering, he has continued to expand his business "Annie B Acres" each year.  He's learned a lot through the help of local beekeepers Tim Wilbanks of Heritage Honeybees in Sullivan and Ryan and Sarah Stern of Concord Farms during the summers. Exposure to beekeeping on a commercial scale has helped shape the way he thinks about his bees and how he runs his own business.
He sells his honey at local farmers markets and has given talks at a local school about bees and honey and has demonstrated beekeeping to his local Scout troop. He recently received the rank of Eagle Scout and used his beekeeping experience for several badges.   Congratulations Cheney!
Kaelyn Sumner of Cecil, WI has been keeping bees since she was 14, contributing her own money to what she received from several grants to start six hives. She is now 16 years old and has expanded her business to nine hives by selling honey at farmers' markets and craft fairs.
She is active in the Pulaski FFA and was one of the 12 national finalists in the Agriscience Division of Food Products and Processing with her research on glucose levels in honey. Her academic paper is also being reviewed by staff at the Minnesota Bee Lab. She was also recognized as #4 in the state for Specialty Animal Production Proficiency. She supports and gives back to the FFA out of the proceeds from her honey sales.
Besides selling honey, she has a passion for education and loves talking to the public about honeybees and honey at her markets and fairs, in addition to the 2,000+ elementary school kids she has spoken to in classroom demonstrations. Congratulations Kaelyn!
Education Award
Max Martin, one of the founding members of the Door County Beekeeping Club has dedicated countless hours providing the crucial training to get new beekeepers in his area off to a good start through mentoring and T his annual beginning beekeeping class. As interest in beekeeping continued to grow, he helped organize the club's mentoring program so experienced beekeepers could share their knowledge with those who are just beginning. He has been keeping bees in the area for almost 20 years and has earned the respect of new and seasoned beekeepers alike by his depth of knowledge and willingness to go above and beyond to help out. The Door County Beekeeping Club and the WHPA are both privileged to have him. Congratulations Max Martin!
Past WHPA Award Winners